MITRA'S RANCH PUERTO PRINCESA
About 10-15 minutes walk from Baker's Hill is Mitra's Ranch. This ranch is not really big for what it is but still worth the visit. There are lots of greens, a nice cool breeze and a spectacular view of Honda Bay. Mitra's Ranch is open for free to the public. Although there are a few limitations.
It used to be a very popular picnic site where you can bring your own food and drinks. You can compare it to Tagaytay City's Picnic Grove in Cavite in the central part of the Luzon island. Today, it is still popular but people are discouraged to bring in their own food and have a picnic inside the property. A corking fee will be charged.

It turned out that people were leaving trash behind after they had their picnic. Which was for free at that time. However, people were not cleaning after themselves before they left. Which leaves the ranch with their trash which is not really nice.
In the past, people roamed inside the pyramid-shaped house for free. Today when you want to sit on the balcony you will have to pay a Php20 fee.
THINGS TO DO
It is still fun to visit Mitra's Ranch and enjoy the beautiful view of Honda Bay. It is also nice to see the blue skies (when the weather is nice and sunny) and the lush greens on land wherever you look.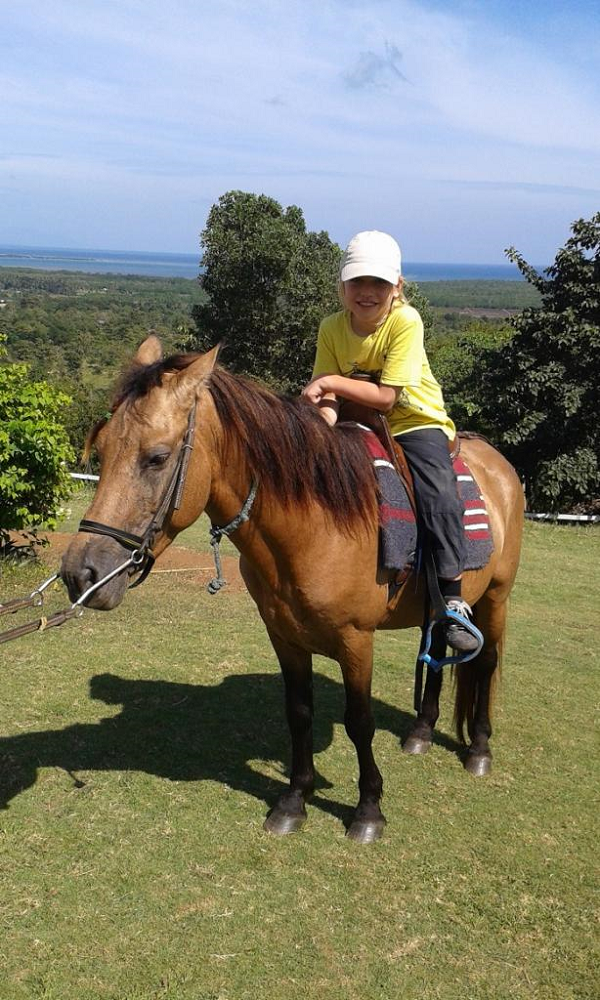 If you are adventurous you can the latest additions – Zipline and Horseback riding like what the 2 boys did in the picture.
For those interested in zip-lining, you have a choice between a shorter one for Php 200 and the big suspended plunge for Php 500 (about 350m). They also offer horseback riding, on the other hand, and it is mostly nice for children. For Php 150 they can ride a horse one time around the pyramid-shaped house.
The property is owned by and named after the late Ramon Mitra and his family. Mitra served as former Palawan's Governor and Congressman and then eventually got elected to Philippine Senate in his later years.
Finally, it is good to try Mitra's Ranch when you are in Puerto Princesa. It is almost next to Baker's Hill. You will enjoy the scenery and a nice cool breeze.
Location:
Brgy. Sta. Monica Heights
Travel Time:
About 30 mins. from the city proper
Fare:
Php 17 (Jeep/Multicab), Php 10-20 from the base at the highway (tricycle)